Weyburn Hall Dormitory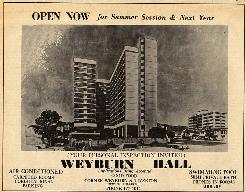 From 1967 to 1971 Weyburn Hall was an off-campus
UCLA residency hall located in Westwood Village.
To enter the "Weyburn Hall & Beyond" web pages,
please write Derrick Garbell to request a password.



For access, please be sure to tell us a lot about your Weyburn experience,
who you knew, and whether you can contribute any photos.
~
Flashback 1970:
A full 17 page issue of
Weyburn Hall's Hydra Floor
"Westwood Dispatch" has been added
---

Enter Weyburn Hall & Beyond


be sure to enter your password carefully & in its entirety
the Weyblog:
Official Blog-Forum for Weyburn Hall & Beyond
Weyburn Hall People:
Residents, Lurkers & Mismanagement
Al Elzas
Glenn Rocquemore
Margaret Sanchez
Al Hoenig
Greg Lee
Maria Bejarano
Alan Cruz
Gunilla Ramell
Marilyn Skiles
Alan Fields
Gustav Weymarra aka Gus
Mark Mandell
Allison Cook
Hana Hrabec aka Hana Snyder
Marlene Morris
Andy Heyward
Harold Zack
Marta Katz
Andy King
Harry Graf
Mary Warden
Ann Haeckl
Harry Lear
Maxine Mahoney
Anna Thomas
Heather Harris
Maxine Spellman
Anthony Amodeo
Henry Clay Coates
Melinda Maggiani
Antonio Gomez
Henry Kissinger
Merry Skrdla
Barbara Migden
Hilary Stein
Michael Phelps
Barbi Benton Klein
Ira Wheatman
Michael Curtis
Barney James McNamara
Isabel Alvarez
Michael Wolff
Barry Carr
Ivars Knets
Michael Wang 
Barry Golden
Ivy Lustiger
Michelle Benedetti
Barry Jetton
J. Christina Smith
Mickey Henschel
Bashar Bakdash
James Gaines
Mike Riccitiello
Bev Magida
Jamie Carr
Mike Serrasetto
Bill Boyd
Jan Vlcek
Mimi Mandel
Bill Converse
Jane Rhum
Mitzi Landgraf
Bill Leonard
Janet English
Moosa Valli
Bill Rawson
Janet Sax
Mousa Valli
Bill Schoen
Janet Hamilton
Morgan Chu
Bill Smith
Janet Sax
Nancy Lynne Stafford
Bill Snyder
Janette Young
Nancy Reagan
Bill Walton
Janice Rossine
Neal Campbell
Bo Simons
Janis Petersen
Ned Erickson
Bob Borden
Jansen Wong
Niall White
Bob Grothe
Jay Heifetz
Nora Titus
Bob Robert F. Kertesz
Jay Heifitz
Pat Boone
Bob Peoples Robert Peoples
Jay Robinson
Pat Fok
Bob Ropkin
Jeff Gondak
Pat Glenn
Bob Truxaw
Jeff Marder
Pat Iantorno
Bob Ward Robert Ward
Jeff Spears
Pat Kelly
Bob Werner
Jeffrey Griffith
Pat Kittell
Bob Ziff
Jeffrey Schultz
Patti Farrell
Brian Duran
Jerry Pretorius
Patty Mellard
Bruce Alpert
Jesse James
Paul Dodwell
Bruce Dybens
Jill Heverdijs
Paul Flick
Bruce Godfrey
Jim Dublirer
Paul Knowlton
Bunny Taylor
Jim Graves
Peggy Fergus
Burt Liebross
Jim Guggia
Pete Arrington
Carmen Cousteau
Jim Howe
Pete Edrington
Carter Newton
Jim Jang
Pete Searls
Cathy Bare Cathryn Alpert in memoriam
Jim Morrison
Phil Staub
Cathy Fitzgerald
Jim Stearman
Phisanu Chongstitvatana aka Jack Chong
Cathy Thielen
Jim Wallis
Phyllis Levi
Cecil B. Pool
Jo Cohen
Portonovo Ayyaswamy "Swami"
Charity Matthews
Joan Kaufman
Priscilla Xavier
Charlie Bartlett
JoAnn Feduniak
Rae Ann Goldberg
Charley Brashear
Joanne Lentz
Richard Hart
Charlie del Castillo
Joe Barker
Richard Iosti
Cherie Lutz
Joe Klinger
Richard Nixon
Cheryl Anne Myers
Joe Ruzek 
Richard Tinney
Chief Darryl Gates
Joelle Dobrow
Rick Kamen
Chief Ed Davis
John Conda
Rick Lailer
Chris Bejarano
John Corda
Rick Mireles
Chris Lloyd
John J. Johnson
Rick Pankow
Chris Priga
John Kemp
Rob Borden
Chris Weber
John Larson
Rod Lozier
Chris Busch
John Mason
Rod Yamada
Cindy Crosby
John Mattson
Robert Borden
Cindy Sharmock
John Nichols
Ronald Reagan
Cliff Busby
John Ochoa
Ronald Woods
Cindy Falkenstein
John Quarles
Rose Roselinski
Cliff Locks
John Salemi
Ruth Arterberry
Clifford Locks
John Smith
Sam Louie
Connie Lievsay
John Terry
Sam Wong
Constance Zec
John Wild Man Fisher
Satandraya sisters
Craig Wells
Jorge Hernandez
Scott Parker
Cristine del Amo
Jose Lopez Garcia
Shari Oppenheim
Cynthia Falkenstein Coles
Jose Lopez Guerra
Sharon Anderson
D. J. Cavanaugh
Joseph A. Sgro
Sheila Nathan
Dan Levin
Joseph Foon Mei
Shigeru Toyoda
Darrell Gindin
Joyce Lu
Simon Grock
Dave Coles
Judy Frank
Sonja Gurfein
Dave Kirsten
Julie Rosenmayer
Stan Edmunds
David Wong
Justin Thomas aka Adam Keith
Stan Zlotoff
Debbie Greenfield
Karen McLaine
Stephanie Vlcek
Deborah Hasin
Karen Nudell
Steve Gremminger
Deborah Holland
Karen Platt
Steve Lewis
Deborah Nourse Lattimore
Kathie Soho
Steve Powers
Dee Fernandez Terry Fernandez
Kathy Baillie
Steve Scott
Denise Ames
Kathy Rainey
Steve Waugh
Dennis Castanares
Katy Meigs
Steve West
Derrick Garbell
Keith Schiller
Sudershan Vadehra
Dev Singh
Ken Ramkeesoon
Susan Doughty
DiAnne DeVick
Ken Simonian
Susan Jones
Diana Shimaji
Kent Lousher
Susan Luden
Diana Webb
Kent Louscher
Susie Richardson
Don Hoffman
Kim Commons
Suzanne Roady Cuddles
Doug Ordunio
Kris Cooley
Susie Hori
Douglas Quetin
Lamarck Henderson
Sydney Black
Duffy Lyon
Lani Smith
Sydney Lazurus
Earl Bandy
Larry Pierce
Sydney Wicks
Ed Carroll in memoriam
Larry Tomassini
Sylvie Kulkin
Edie Koreomatzu
Lee Smith
Tad Sedgwick
Elaine Greenfield
Leonard Chant aka Tex
Taylor Kingston
Elena Selanova
Leon Mezzetti
Terri Fox
Eve Tolmack
Leslie Rosen
Terry Niksch
Everett Thomas
Leslie Stanton
The Bergerfolk link2 link3
Eytan Keller
Linda Abrahms Abrams
Thomas Normington
Floyd Quarrels
Linda Levitz
Tig & Bud -Maintenance Dept.
Francie Kadish
Linda Smith
Tim Ravey
Francisco Moreno
Linda Terry
Todd Arak
Francoise Rodat
Linda Thompson
Tom Hendon
Freya Reisman
Lisa Beal
Tom Wallis
Gabe Travis
Lisa Lyon
Tom Yankowski
Gail Glaze
Liz Reed
Tommy Tomahiso Hashimoto
Gary Kuklinka
Liz Schmidt
Tracy McClean
Gary Slobe
Lloyd Smith
Trevor Thomas
Gary Soter
Ludmila Hrabec aka Lu Buckmelter
Vicky Browne
Gene Mandell
Luis Benevidas
Victor Amor
Geoff Gondak
Lynn Hoffman
Wes Sagawa
George del Castillo
Maki Spellman
Williard Queen
Gerardo Borrero "Jorge"
Manuel Canez
? Yasutake
Glen Creason
Marco Alpert
? Yamashita
1969 vintage photos of the dorm, the pool,
Westwood Village vistas,
and the UCLA Botanical Gardens
are in the Weyburn Hall & Beyond pages

Contact Derrick Garbell to request access
Please be sure to tell us a lot about your Weyburn experience,
who you knew, and whether you can contribute any photos.
thanks, Peggy, but where are you?

Interior pages updated
4 July 2016