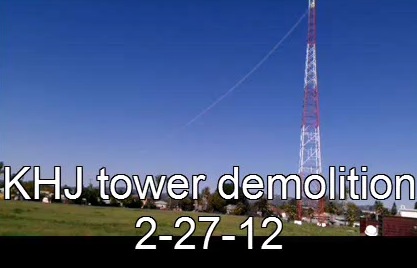 48 years too late IMHO.
I donwannagonnarant here, but as President of the "KHJ, Eat Terds and Die!" club it's my solemn doody.

Can you stomach those hyper jacked-jocks in the tower death video?
The music spoke for itself.
Well or poorly, let the music speak.
We did not need a screaming voice saying, "Hey this is really groovy, listen to it (if you can -- beneath my bellowing) and you'll be groovy too."
After KFWB 980 stopped playing pop, and XERB 1090 and KBLA 1580 did likewise (or when KBLA was too weak to hear), there was a hugely vehement KRLA/KHJ dichotomy among my high school friends. If anyone ever tuned accidentally to 930 AM and the bossjerk verbiage vomited our ear canals, even prudish bookworm classmates were known to shout,

"Turn that sht off!"

By "sht" is meant the same 17 lousy songs all day long punctuated with bossjock nauseating shrieks.

Boss jock defined: "someone like your parents trying to be cool; the Brady Bunch on caffeine; dating a mannequin in a leisure suit."

Or as George Carlin impersonated: " "Hi gang. Scott Lame here. The Boss jock with the Boss sound from the Boss list of the Boss 30 that my Boss told me to play."

KHJ was in fact the thorn that introduced us to classical music. If KRLA had nothing going, we'd prefer KFAC AM 1330 to that KHJunk any day.

I remember the Pontiac radio dial on our stationwagon and finding auditory refuge in the Bach Jocks.
And now, a moment of blessed silence:
===derrick garbell

© 28Fb13
~~~~~~~~~~~~~~

Reseda High School

St. Bridget of Sweden Elementary